Redefining Luxury Home Design
Eurofit Kitchen & Cupboards offers a wide variety of contemporary design and bespoke finishes to help you realise your dream home. Whether you are looking for a classic or modern look, we can create a living space that will meet your needs. Our passion for design and attention to detail work hand in hand. Using our experienced team and factory, every kitchen design is created from scratch to ensure everything fits your space and lifestyle. Our design experts know how to offer the perfect solution for any house size and budget. We will take measurements of your space, draw up plans and design everything from start to finish. We offer our clients a complete service package (from designing to installation) which guarantees the highest quality workmanship and customer satisfaction.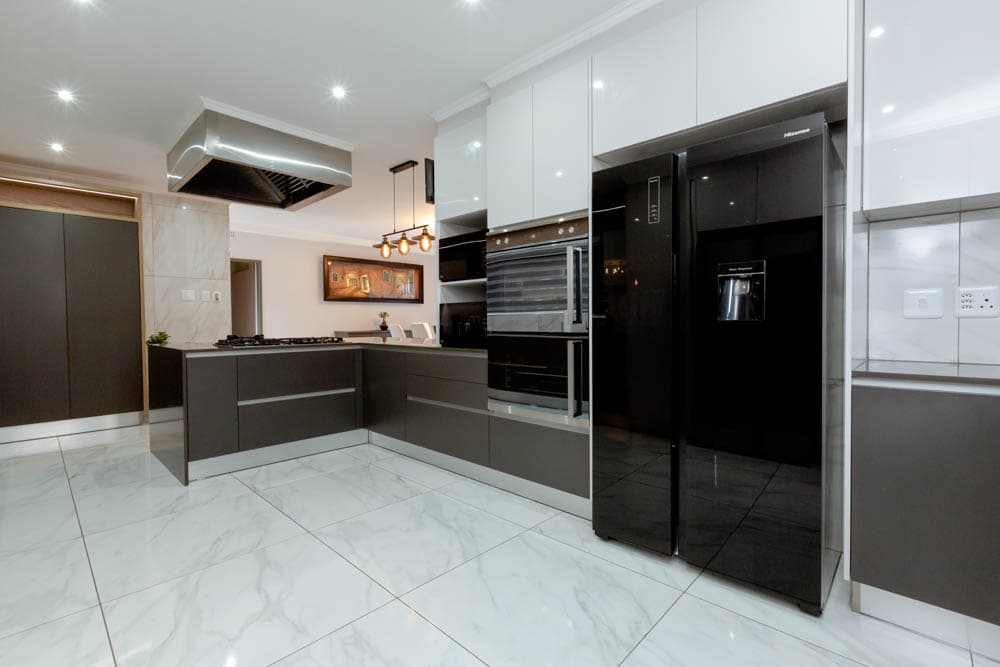 Making Kitchens Exceptional
Our kitchens are designed to bring out the Michelin star chef in you. Bring delicious food and luxury together in a lavish setting that shows off the bespoke design of your kitchen. We believe that creativity is at the centre of everything we do, which is why we offer our clients innovative and contemporary designs for their kitchens to bring the hub of your home to life. Get inspirational ideas for luxury kitchen designs as you prepare to create the kitchen of your dreams from start to finish. The perfect kitchen is just waiting for you to design it and for us to bring it to life.
Enhance the space that serves as your everyday retreat with high-end vanities and your choice of luxurious finishes to fit your bathroom style. The wide variety of Eurofit's bathroom vanities and solutions is designed to meet the diverse tastes of our prestigious clientele. Our vanities are the outcome of thorough research, creation, and design in order to meet all the needs of our customers.
INCLUDING PLUMBING, TILING & FITTINGS
It's the unmistakable luxury style of our proposals, in which beauty and design do not disregard from function. With hundreds of options available, you can get a custom-designed wardrobe with clean lines, flush doors, smart storage or a dream walk-in closet. Decorative details give this system the look and feel of installed furniture. Our built-in closets create an atmosphere of sophistication and bespoke design.
We offer decorative solutions that will transform every room in your home from the kitchen and beyond. Your home deserves sleek, clean lines with functionality in your workspace, patio and bars where guests can enjoy a glass of wine. The key to every piece we design for you is maintaining style and elegance in the space. Count on us to provide a complete service from conception to completion.
Our one-stop shop guarantee ensures a seamless and painless installation process. Eurofit is dedicated to making your dreams of luxury a reality.
years on hinges & runners
"Our experience with Eurofit Kitchens was interactive and we were kept well informed about the different kitchen design options available to us. Their range of finishes, appliances and worktops is comprehensive, and their team is accessible when needed. Their products are high quality with good workmanship. It was a pleasant experience and enjoyable to look at different design options. The end result matched the original design, and we were happy. We will definitely recommend Eurofit to family and friends."
R.Weber
"The entire process from design to installation and addressing the snags was professional and happened seamlessly and all within our budget. In particular, the time you took to design the kitchen and personal attention you gave during our meetings is most appreciated."​​
DR. C. Corcoran
"Our kitchen is both functional and beautiful! The service was great and we love our kitchen, it is the focal point of our house and where we spend most of our time."
L.Mallabone
"Thank you Eurofit for the most pleasant and very professional kitchen design and purchase experience. You were always willing to listen to our needs and came up with excellent solutions. You offered a selection of finishes, appliances, and worktops that made it very easy for us to decide on the final finish. Your quality is of a high standard and your after-sales follow up and service is brilliant. Our kitchen looks superb. I will definitely recommend your brand to families and friends. Keep doing what you are!"
L.Mallabone
"We would like to thank you and your team for our beautiful BIC. You gave us great advice and the final product turned out beautiful.
Francois, Selby and Rafael are a great team and did a great job from delivery, removal and assembly to the final installation. They were polite and professional and it was a pleasure to have them here installing our cupboards."
J&B Potgieter
"We planned our kitchen before lock down and were ready to start in a couple months and then lock down hit. Eurofit were amazing from changing completion dates and design without complaint. They came in as promised as soon as we were allowed to begin construction again. We now have the most beautiful kitchen. I can highly recommend them"​
C. Pincus
Ready to design your dream kitchen?
Book a free consultation and get started today.