How to Accessorise like a Pro
Now that you have a brand new kitchen, how do you tastefully add to your kitchen decor? Thankfully, you don't have to have a diploma in Interior Decorating to create a gorgeous kitchen worthy of any Pinterest page.
These are our top 5 elements that will make any kitchen pop.
Natural Element – Plants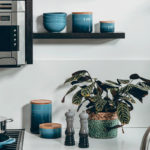 Add a zen vibe to your kitchen decor with plants. Plants add natural, homey elements to a kitchen, keeping it green and looking fresh.
Popular plants to use are Aloe Vera, African Spear and Lime tree, just to name a few. Keep herbs close to the stove with a kitchen counter-top herb garden or a hanging garden if you need to save on space.
Splash Element – Colour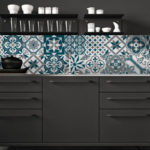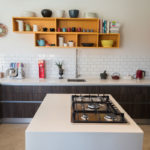 Add selective colour splashes all over your kitchen. Freshen up off-white kitchens with a fresh colour. Bright patterned backsplashes add a tasteful feature to your kitchen. If you aren't that adventurous yet add single coloured glasses or occasional patterned tiles.
Another superb way to add subtle colour and personality to your kitchen is with complimentary coloured crockery. Better yet, display these on naked shelves to create a farm-style look.
Warmth Element – Lights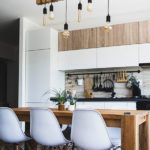 Add lighting in various ways, the most popular being pendants. The naked bulb or industrial look works well in kitchens. Lighting is very important. It sets the tone and creates a warm atmosphere in your kitchen. It makes your kitchen comfortable and homey. Personalise it to give an upmarket edge if you prefer. Dimming systems are also a pleasant addition to setting the right mood for each meal and occasion.
Seating Element – Bar Stools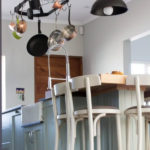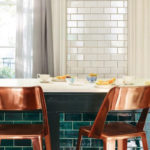 The kitchen counter is a functional space in any home. It invites conversations, afternoon tea and quick breakfasts before school. Before adding any old seating, use this opportunity to experiment with colours and make a feature out of it. Barstools are a simple way to do this. They come in a variety of styles and colours. The right choice should highlight your kitchen's focal point, the island.
If you want to be on top of the latest trends, copper barstools are the way to go and it also gives an industrial edge.
Practical Element – Appliances & Utensils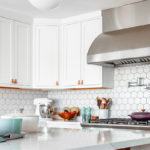 A kitchen needs to be practical. So use your everyday kitchen items to add a bit of flair too. Showoff your attractive utensils by hanging them on the wall or add them to a beautiful glass near your favourite cooking spot. You can do the same with your appliances. Display them on open shelves or unused counter space. This will create an appealing vibe that says, "Let's Cook!",
For more inspiration, book an appointment with our designer team and follow our Pinterest Boards.