Modern White Kitchens
White Kitchens are still one of the most popular designs chosen today, despite critics labelling them as drab or outdated. As always, trends will come and go, but white kitchens are here to stay.
Here are a few reasons we think the white kitchen is still one of the most popular out there.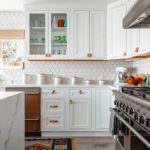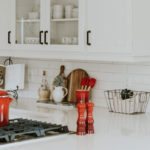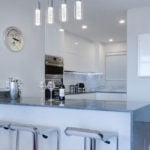 Colour Perception & Association
It is our visual perception and associations of white that make white cabinets timeless. We associate white with light, we visually perceive light spaces as being spacious, clean and bright. Darker hues which work brilliantly with muted colours, like rich oaks and dark walnut finishes. Darker hues create a more dramatic effect as space looks smaller and feels warm and cosy.
Light & Bright
When you are working with a smaller kitchen, light colours are the best way to make a room look brighter and more spacious. If you have little natural light, the white cabinets can reflect what light you have and make the room seem larger than it really it.
Fresh & Clean
In reality, white cabinets are not necessarily fresher or cleaner than their coloured counterparts are. It is the association of white cabinets being are more hygienic and germ-free that sets it apart. White kitchens appear to be fresh and clean, a wonderful illusion with no effort.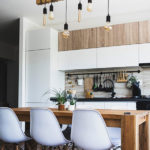 Easy to Decorate
Choosing colours, styles, patterns and fixtures that work well together takes a keen eye and some talent! Fortunately, almost everything goes with white and will make a visual impact. Pair white effortlessly with any counter-top or flooring option, relieving you of a lot of pressure to make the right choice.
Better Resale
White cabinets are timeless, they have been in the top trends in kitchen design for decades now. The genuine beauty lies in the fact that they are more marketable to future home buyers. Whether it be contemporary or classic, white works well with every style.
We stock a wide range of white cabinetry options to suit your personal style and budget. Contact us today or visit our showroom, where our designers are ready to meet you and create your perfect white kitchen.